One of my favorite musicians is the pop and rock duo PUFFY, comprising of two women: Ami and Yumi.
Ami is on the right and Yumi is on the left.
They both have great fashion sense and fun hair. Yumi is more adventurous with her hair than Ami is. She is also prone to having shorter hair for a unisex style while Ami usually has long hair about midback. I've copied a few of Yumi's hairstyles and there are still some that I want to try. Being male, I have to modify the longer hairstyles to fit my shorter hair because it takes so long for me to grow my hair and also because I don't look good with long hair anyway.
I don't know which dyes she uses, but here are some of my favorite hairstyles of hers:
I really like two tone hair. It seems to be a pretty popular trend among Japanese street fashion. When people do it in America and other western countries, it's usually platinum blonde hair on top of black. I like the way that Japanese people do it, where the shades are side by side. Some scene kids and others in western countries have streaks of colored hair, so they're side by side that way, but it's not like the Japanese style.
I feel that Yumi is the queen of two tone hair. Three quarters brown and one quarter black from 2003: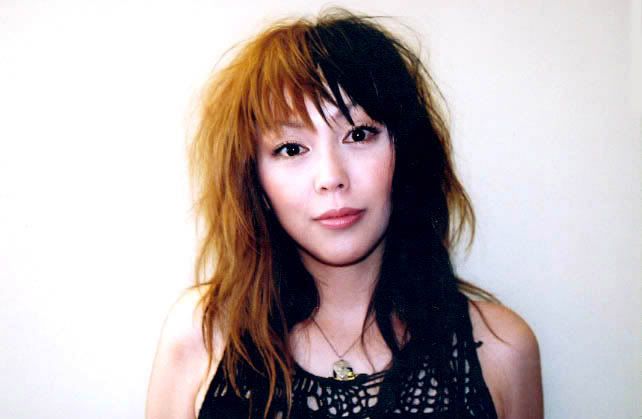 She then lightened the brown part for 2004:
Three quarters brown and one quarter blonde from 2005-2010 (she varied the length and shades throughout this time):
http://www.youtube.com/watch?v=CaDmpCg9Nck
Here are variations of the above hairstyle that Yumi did in 2006:
I tried the three-quarters-brown-and-one-quarter-blonde hairstyle for a while in 2006. It was a disaster. Instead of being two-toned, my attempt had me with at least two shades of brown and three to five shades of blonde because of uneven bleaching. On top of that, the length of my hair was uneven. Being male, I had the typical short hairstyles before, so when I grew my hair longer, the hair at the back of my head was longer than the hair on the sides of my head, which in turn was longer than my bangs/fringe. So I had the brilliant idea of evening my hair by cutting it all around, giving myself a bob just level with my chinor a bit past it. Yes, a male with a bob hairstyle. I told you that it was a disaster. Then, later, my black roots grew, so I then had maybe about an inch (2.5 cm) of black showing through the different shades of brown and blonde.
I want to try a shorter verson of this, black with green streaks and tips: http://www.youtube.com/watch?v=e5CqwYmiTkI http://www.youtube.com/watch?v=hQhzw_3whtM
I'll probably do it as a green mohawk worn flat (I don't like mohawks up) with my natural black hair shaved close on either side.
I want to try this, but the length will have to be modified: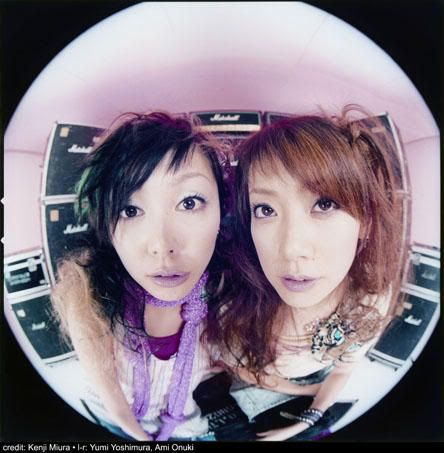 I'm thinking maybe shaggy hair seen on some men (longest hair would be a bit past my ears), with brown on top of black, and the bit of green on one side. I won't do the light blonde and green tips at the back of the head.
This is what I'm currently trying to achieve: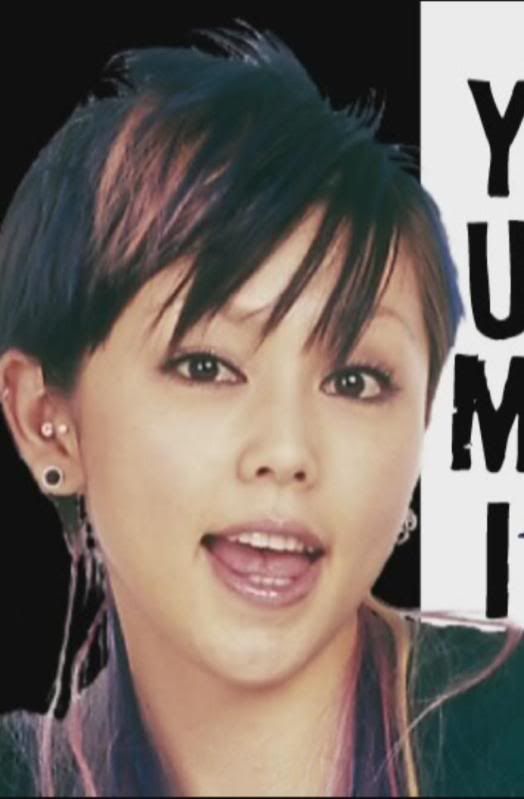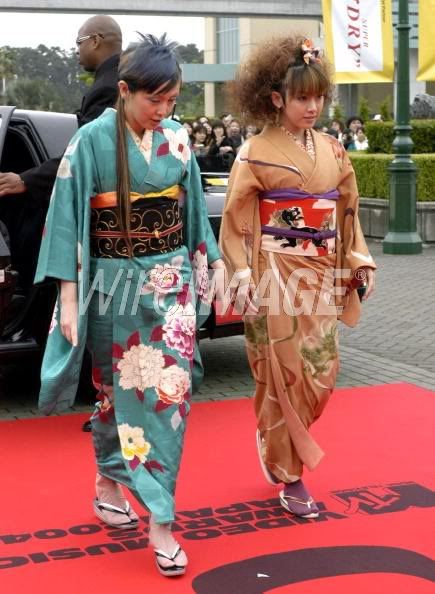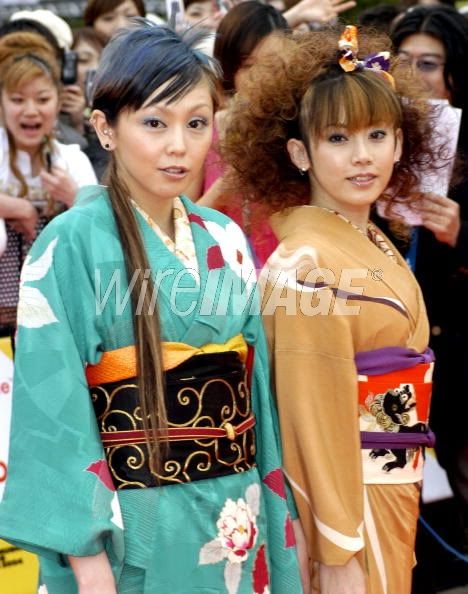 My mother claims that Yumi doesn't have blue in this hairstyle (she tries so hard to prevent me from having unnatural hair colors). She clearly does have blue in her hair. How can one not see it? Here's another photograph where, for some reason, the blue is intense compared to the other photograph of the same red carpet event: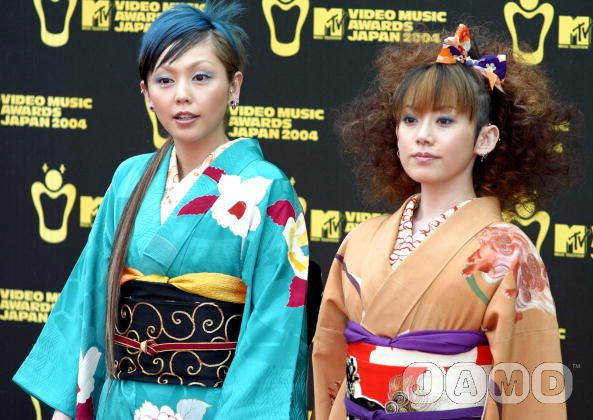 I don't think that the lighting could change the color by that much, can it? The sun changes my blue hair in certain angles (heck, it changes my natural black to a dark brown), but that above photograph seems too different to be caused by lighting. I don't have any other explanation for it, though.
Yumi had this hairstyle way back in 2004 and I've wanted it since then. I've attempted to get it maybe two or three times since 2004 but I failed every single time. The cuts that I had weren't even similar. Couple that with the dye job always coming out dark because my mother didn't bleach my hair light enough. She doesn't like the idea of using bleach on my hair to get it to blonde because she's afraid that my hair will get fried going from black to blonde, so she'd only lightened it to about a medium brown or light brown. Brown has red in it, so when she added the blue dye, my lightened hair turned purple. It didn't start looking blue until the color started to fade. Then it only stayed blue for maybe a week before then turning green.
Now, I've done my own dye job, so I can lighten my hair to as light as I want to achieve the true dye color. I used After Midnight by Manic Panic. It's still in-process. I have the blue over my black hair with a blonde streak on the right. Because I accidentally dyed part of my blonde streak blue, I'm using Effasol to fade it. I've already faded it twice, waiting about twenty four hours in between applications. The first application made the blue fade very quickly to a bright pink. Seriously, just from applying the mixture to my hair with a tint brush did my blue mistake fade to pink in less than a minute (really, about ten seconds!). I've managed to fade the blue mistake to a light pink, so I just have one more Effasol application to do, I think. I'll do it in about an hour or two, which will be at least twenty hours from the last Effasol application that I did this morning. It's 11:29 p.m. as I'm typing this. Yep, staying up at night to dye my hair. Who needs sleep?
After I fade the last remaining light pink tint tonight (or rather, tomorrow morning), I'll dye my blonde streak with a permanent light reddish blonde. That's what it originally was but the bleaching for the blue made it lighter (originally, my hair was just black with that brown streak, no blue; I then applied bleack to the black hair and to the black roots of my brown streak, but I had accidentally gotten bleach on the already bleached-brown streak). Now the two Effasol applications made the brown-to-blonde streak even lighter. It looks like platinum blonde, as if I'd used a toner!
Then I'll use black permanent dye to dye the sections of my hair that should be black but which I'd accidentally lightened with bleach when doing the initial blue application (it's mostly my bangs area, but some of the hair around the blonde streak was also accidentally lightened). I think that I can do the permanent light, reddish blonde and black dyeing after I rinse out the Effasol and shampoo my hair. The permanent dyes are supposed to be deep conditioning, so I don't think that I have to wait twenty four hours after the Effasol application before doing more stuff to my hair.
I also have to then touch up my blue hair. It's fading to purple, but only on the right side and on the top of my head. The left side is the dark blue that it should be. Also, it's the tips that are fading to purple on my left side and top of my head. The hair closer to my scalp on my left side and top of my head is still blue, while the back of my head and left side are varying shades of dark blue. I don't know if it's maybe because I didn't use enough dye on the tips or maybe my tips weren't lightened enough.
Oh, and there are still some strands of my hair that are still actually the shade of pink from the first and/or second Effasol application. I didn't bother fading those strands any further because they are part of my hair that actually should be blue, so I'll just add blue dye to them. I just hope that the pink won't affect the blue dye, resulting in purple!
I'm only supposed to have three colors in my hair (dark blue over black with a reddish streak on the right side of my head), but instead, I have two to three shades of dark blue, one or two shades of purple, platinum blonde, dark brown, and black. That's at least six colors, at least double what it should be!
But it's looking good! I'm finally on my hair to getting the hair style that I've wanted since 2004 and had tried and failed to get two or three times! Oh, I forgot to add, I won't do the multicolored ponytail (it looks to have blue, purple, light brown, and platinum blonde colors). I think that it's an extension since she had an earlier, sloppier version (by comparison) of this hairstyle without a ponytail:
Yeesh, I didn't mean to type an academic paper about my hair nor did I mean to post so many pictures of PUFFY. It's just that I don't have anyone else to tell about my hair (or about PUFFY's hair, for that matter). That's what this community is for, isn't it?
Now it's 1:03 am (it took a while to gather images for this post and to check for grammar mistakes). Off I go to soon apply the next (and hopefully final) Effasol application.
So many hairstyles, so long to grow hair!